on
April 30, 2012
at
6:52 am
Hey all!
Thanks so much to those who came by my charming little sliver of table space at the MoCCA Festival this past weekend! It was an amazing first comic conference experience and I'm thrilled to have met so many friendly, talented people. It didn't hurt that I even sold some comics!
A big thanks to my buddy Rio Aubry Taylor who tabled with me and inspired me to attend this year's MoCCA Fest in the first place. Here's evidence of us having a good time at the show: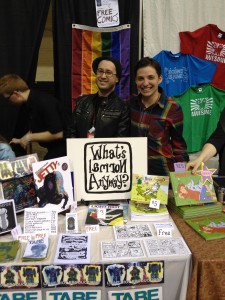 I'm there in the rainbow plaid.
Well, with my first year of grad school ending next week, I'm hoping to have time to be a bit more verbose in these blog posts. I never fail to fill my time with activity, though, so we'll see how that all works out. In any case, I'm looking forward to concentrating more on my art this summer and connecting with tons of interesting folks. Maybe you should be one of them :)